Rights Respecting - Article of the Week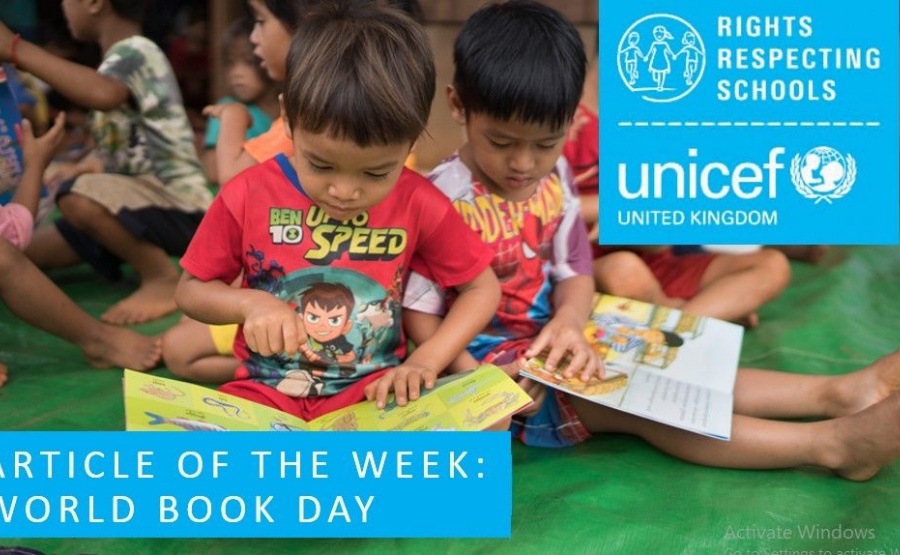 Article of the week is a regular set of learning activities centred on a specific article linked to the UN Convention on the Rights of the child (UNCRC). Each week we will post a new article which we will be focussing on along with suggested activities which you can complete at home if you wish - you are very welcome to share your activities with your class teacher by posting on your class page.
This weeks article of the week is centred around World Book Day and linked to Articles 17, 29 & 31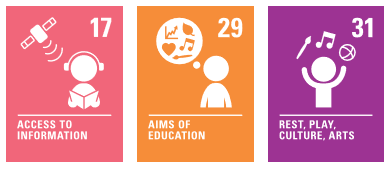 Article 17 - access to information from the media
Every child has the right to reliable information from a variety of sources, and governments should encourage the media to provide information that children can understand. Governments must help protect children from materials that could harm them.
Article 29 (goals of education)
Education must develop every child's personality, talents and abilities to the full. It must encourage the child's respect for human rights, as well as respect for their parents, their own and other cultures and the environment.
Article 31 (leisure, play and culture)
Every child has the right to relax, play and take part in a wide range of cultural and artistic activities.
Jenny, RRSA Professional Adviser, introduces World Book Day
World Book Day was created by UNESCO on 23rd April 1995 as a worldwide celebration of books and reading.
It is marked in over 100 countries around the globe. The first World Book Day in the UK and Ireland took place in 1997 to encourage young people to discover the pleasure of reading.
World Book Day is also now a charity with a mission to help change children's lives by promoting reading for pleasure, offering every child and young person the opportunity to have a book of their own.
This year (2021) marks the 24th year of WBD on 4th March and we hope you can find many different ways to enjoy reading.
There are lots of connections between World Book Day and your rights, especially your rights to access reliable information, the right to develop your talents and abilities and the right to relax and play.
All of the below activities are linked to the above articles, for KS1 children these will also be posted on Google Classroom,
You don't need to do every single activity but if you have time you can do more than one!
1) How many different reasons can you think of why reading books is important?
2) World Book Day is all about enjoying brilliant books. Have you ever watched Dog Loves Books? Dog and Pug have lots of adventures as they jump into books – can you think of a favourite book you'd love to jump into? Talk to someone about why it's your favourite, write a book review or even write yourself into the story!
3) Books are a great way to find out new things, like this one about whales: Could a Whale swim to the Moon? Make a note of 3 interesting facts from the story. Do you know any facts about a different subject that you can share with the class?