Pentecost Service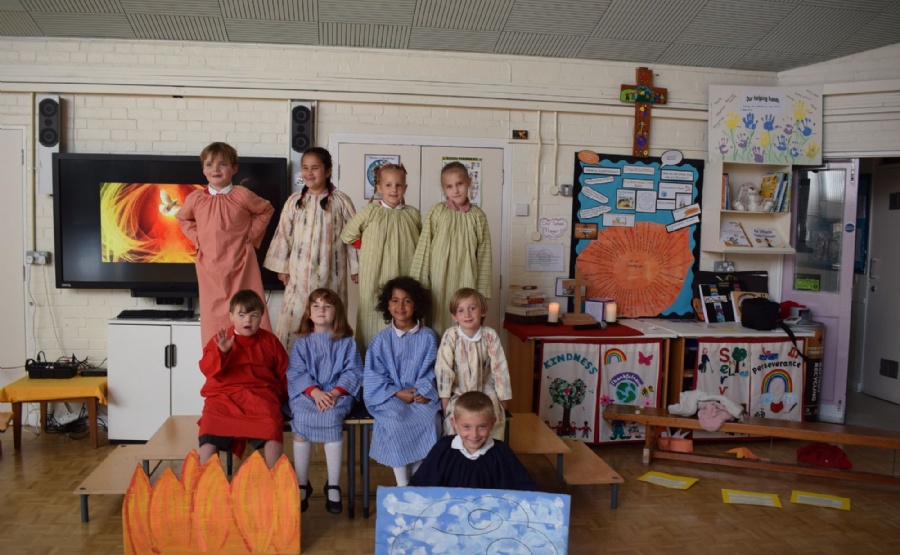 Pentecost Service In School - Thursday 8th June
The Worship leaders told us the story of Pentecost and the Holy Spirit:
Pentecost takes place 50 days after Easter and the word 'Pentecost' means 50.
After Jesus died and rose again he spent 40 days on Earth meeting and talking with people including his disciples. At the end of the 40 days Jesus met with his disciples on a mountain in Galilee and instructed them to go out and visit all the nations to spread the Good News about Jesus. They did not know how they could do this as they could not speak any other languages, but Jesus told them not to worry he would send a helper known as the Holy Spirit
10 days later the Disciples were having a meal together to celebrate the Jewish Festival of Shavout when suddenly there was a rush of wind and a tongue of fire appeared. It split into smaller flames which formed above each disciple's head. When they disappeared they were shocked because suddenly they could speak lots of different languages.
This meant they could follow Jesus' instructions and God had sent the Holy Spirit as he had promised.
At the end of the service, the Worship Leaders gave out doves for each class. The dove is used by Christians to represent the Holy Spirit and the Worship Leaders asked the children to write a Pentecost prayer on a dove to be hung in the hall.
Please click here to see more photos.